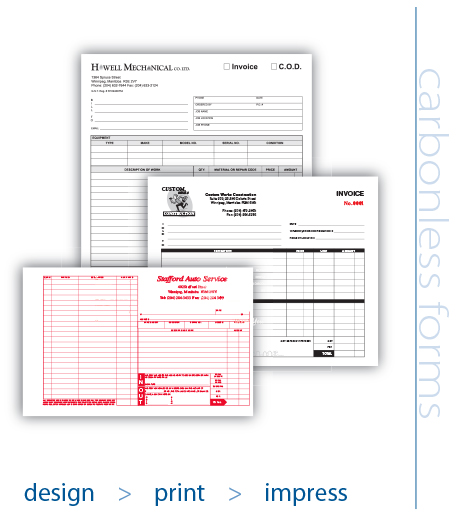 Carbonless Forms
The use of carbonless forms makes it easier for offices and businesses to create and keep duplicate copies of their written documents. Some of the most common uses are invoices, statements, purchase orders, contracts, work orders, applications and receipts.
Impress Printers offers a wide range of custom carbonless form options to fit a variety of business needs. Standard sizes for carbonless forms are half page (5.5" x 8.5"), full page (8.5" x 11") and legal (8.5" x 14"). Custom sizes can be ordered to meet your specific needs.
Carbonless forms are available in a number of pages, referred to as parts, ranging from 2 to 5 parts. The forms can be ordered loose or bound into a booklet with 25 to 50 sets per book and a fold in backcover.
Carbonless forms can be numbered for essential record keeping. Just specify red or black ink and the starting number and all forms will be numbered sequentially.